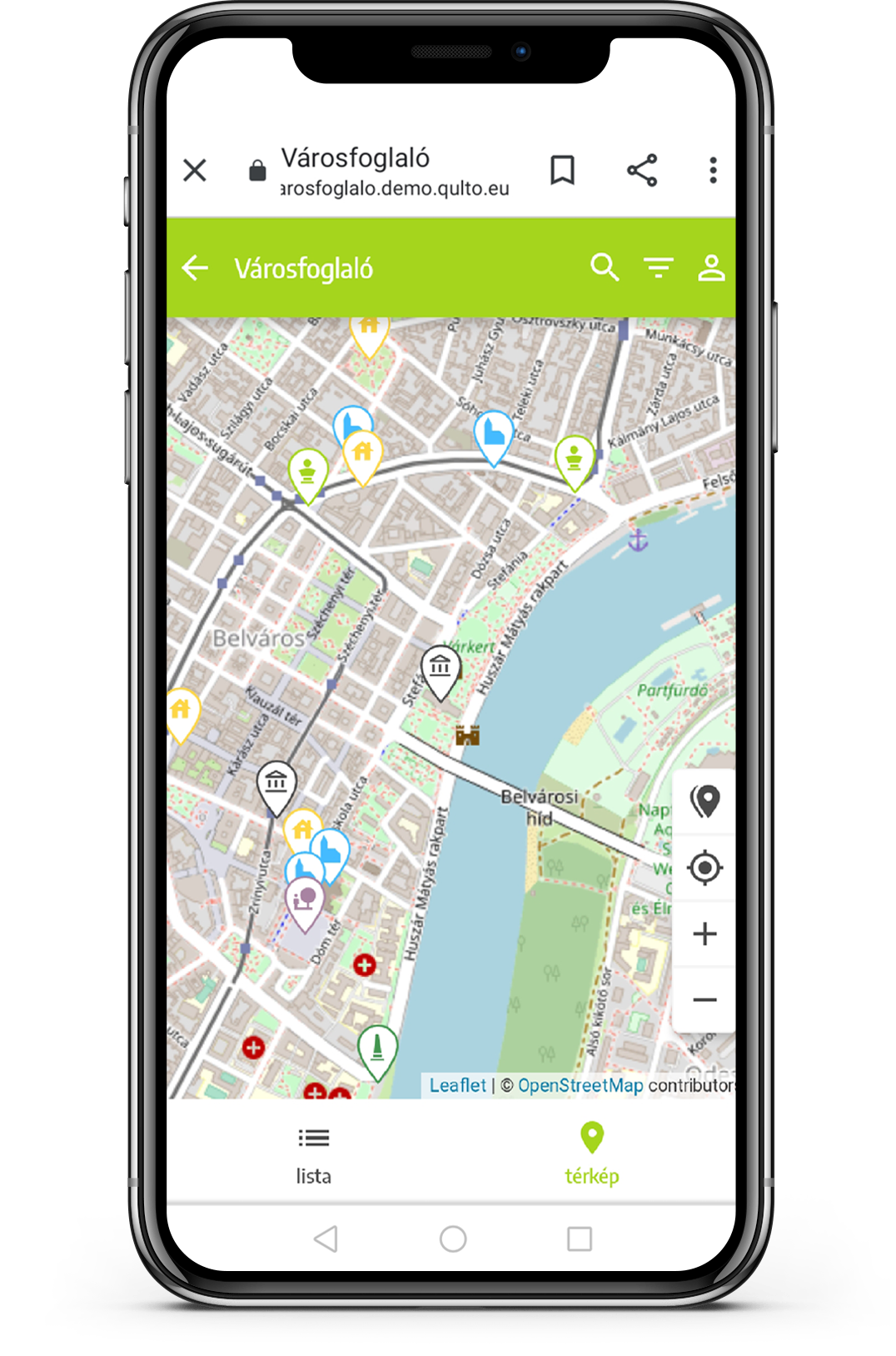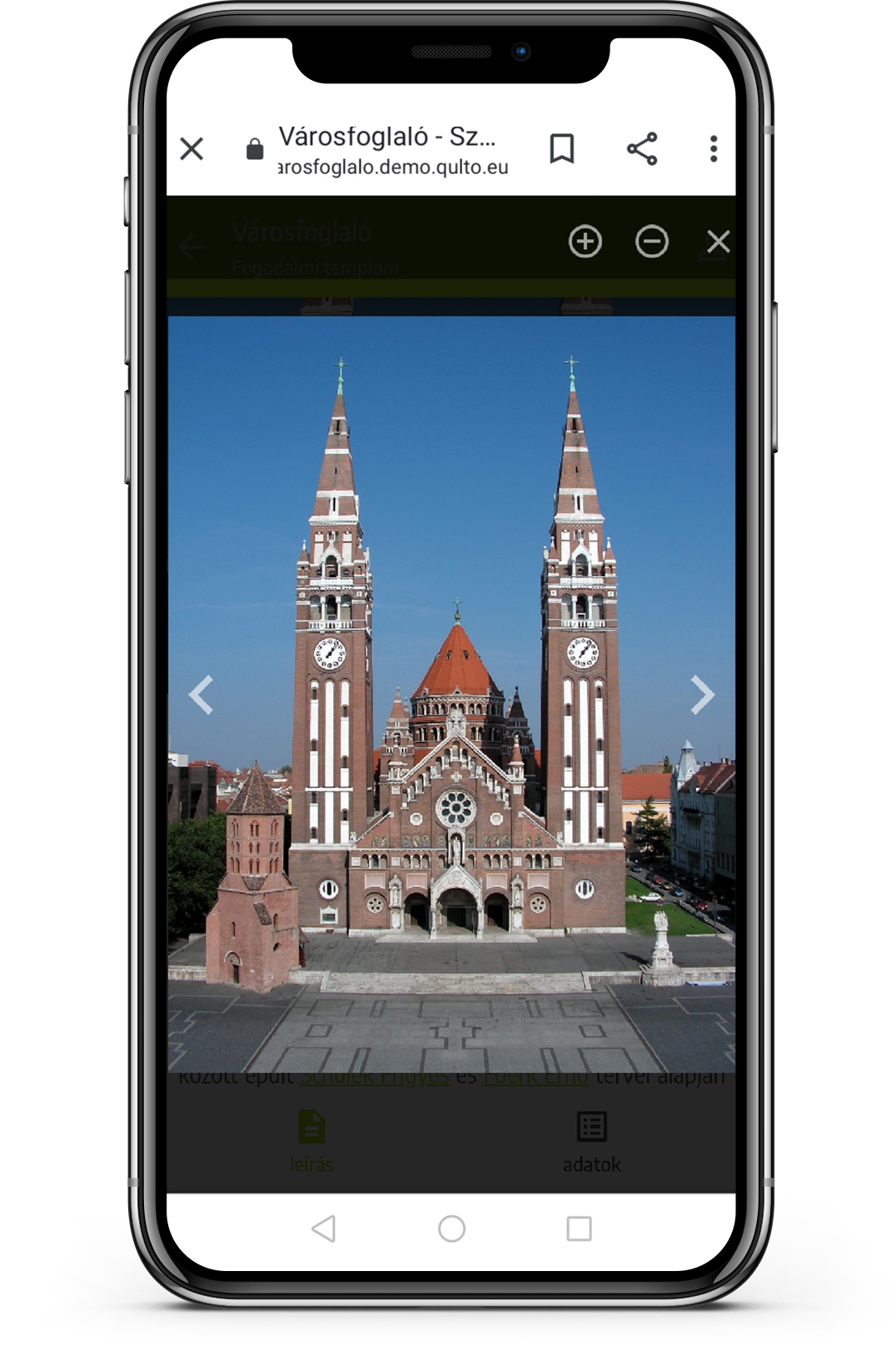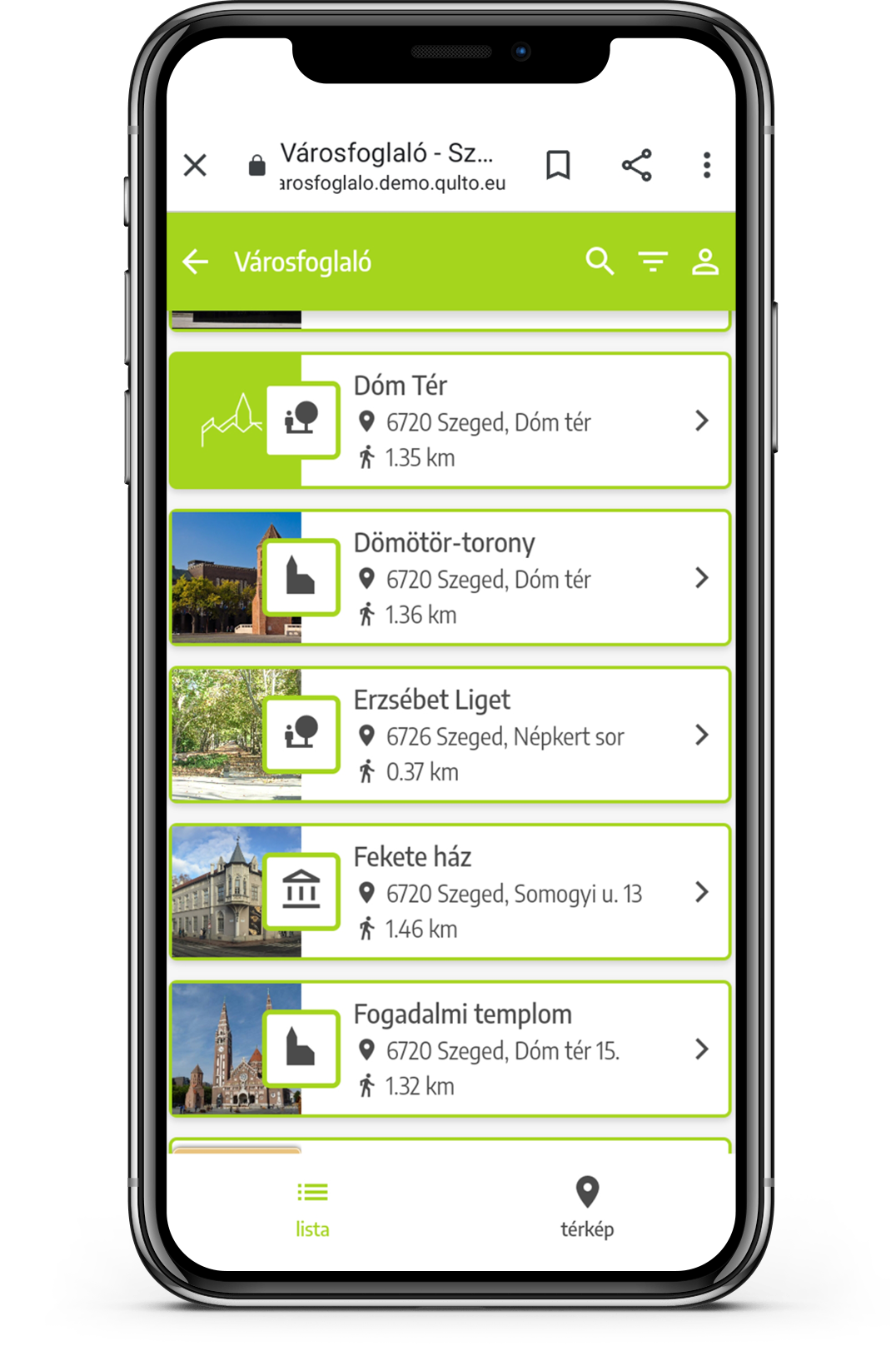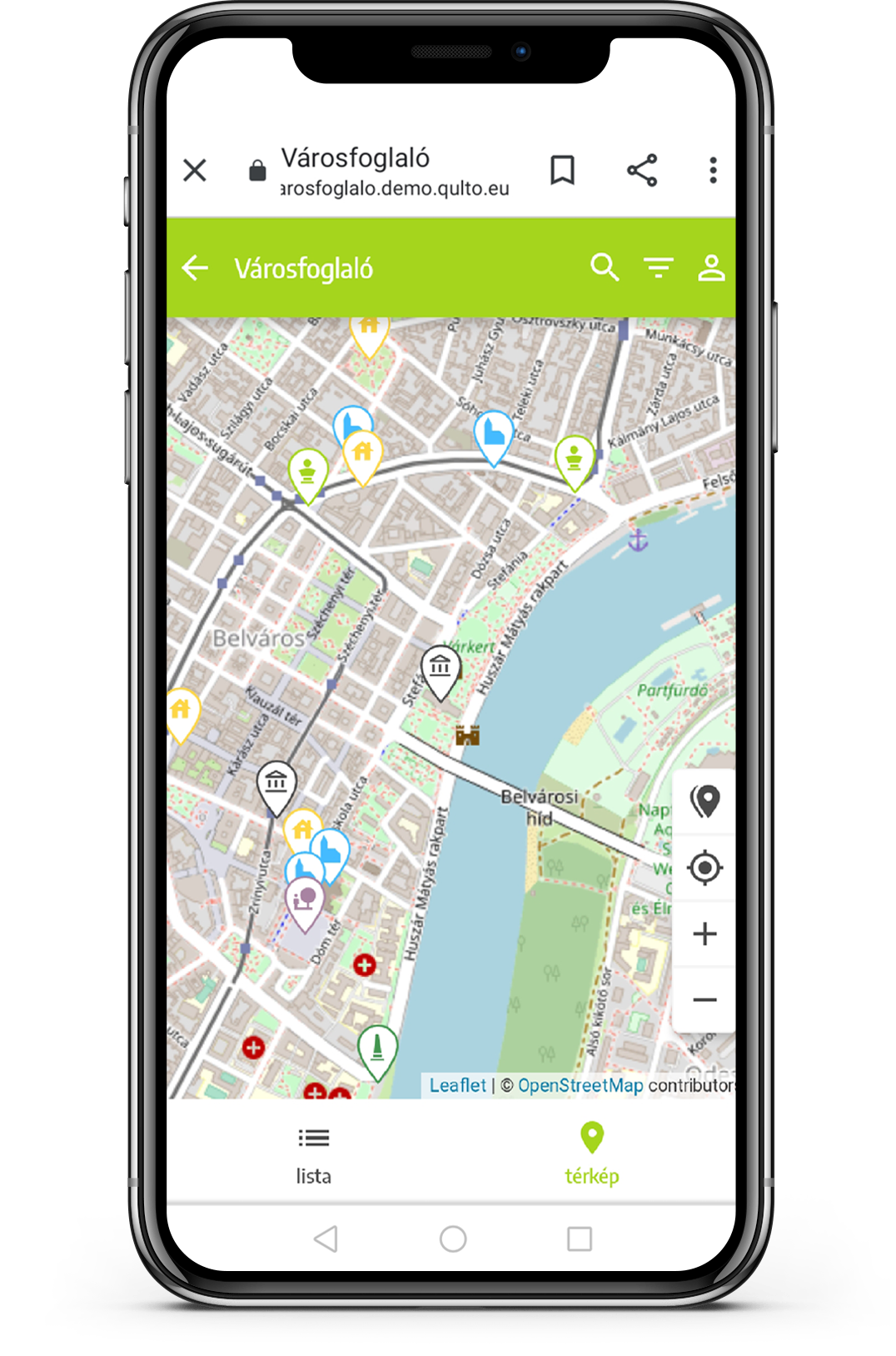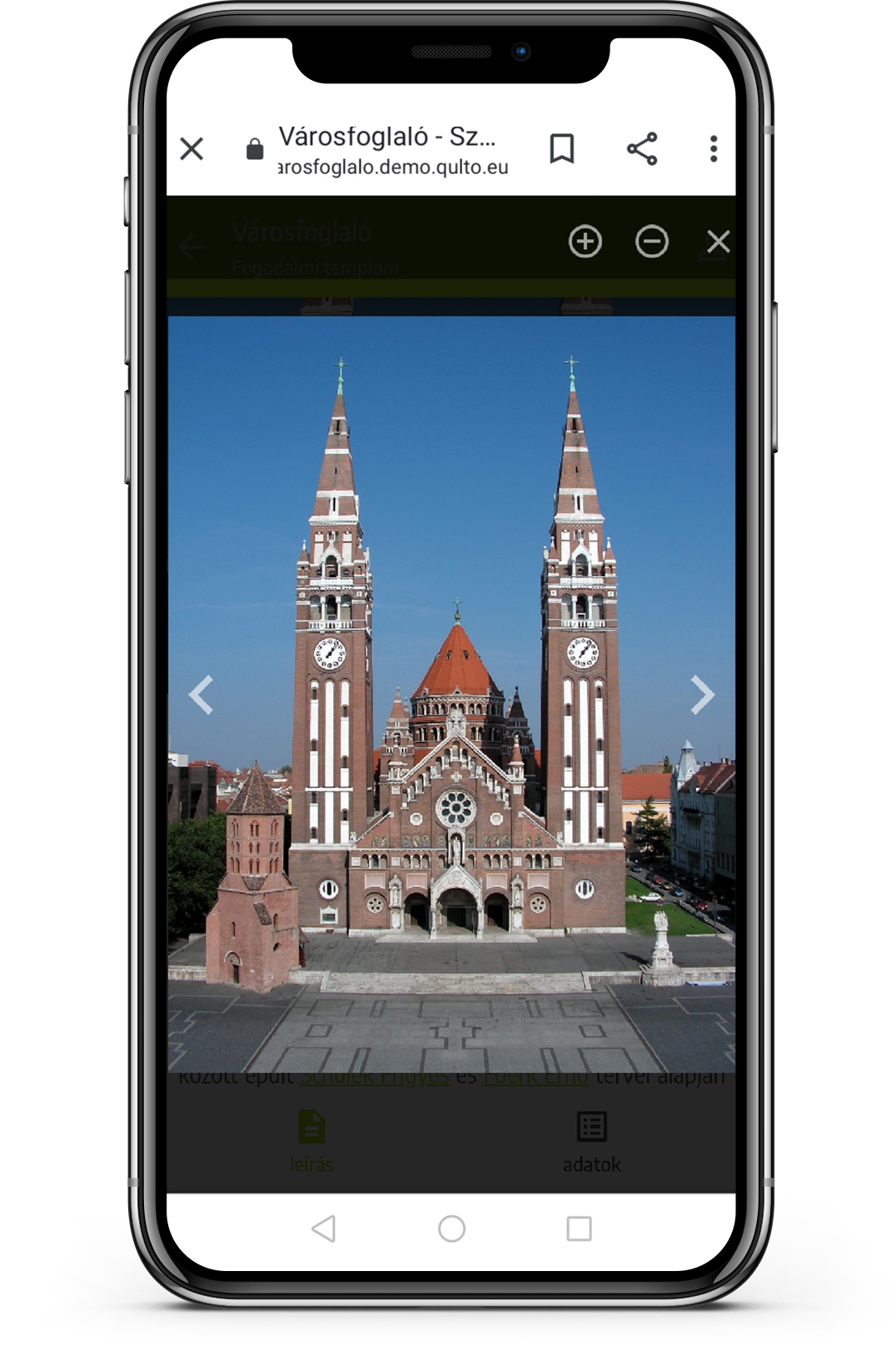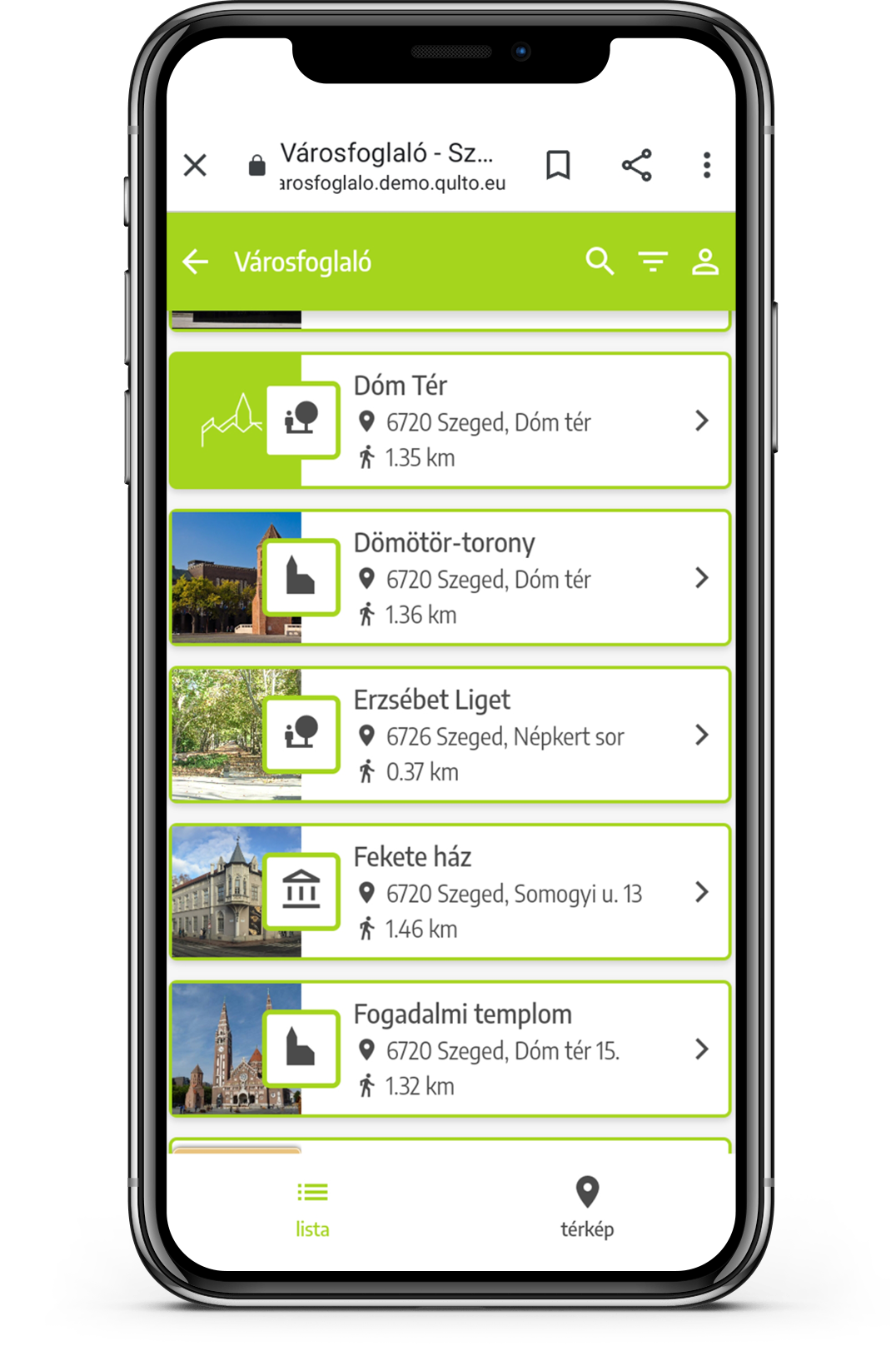 Put the city in your pocket!
With this cultural tourism app, our aim is to provide our customers with a tool to easily and quickly design and publish thematic tours or virtual walks of local values and cultural treasures.
Main features
Spreading local and cultural knowledge in an engaging way 
browse attractions
thematic walks, playful routes
Game modes
individual and group
QR code and GPS based
possibility to determine the sequence of stops
Administration interface 
adding attraction
defining routes and quizzes
customizing the application
statistics
With the app, you can create any number of thematic walks without any restrictions: city walks, themed tours around a specific event or celebrity, a competition for students – unleash your creativity! During the walk, the presentation of spectacular places can be enriched with interesting content, we can engage the audience with quizzes and invite the whole family to play games. In addition to individual play mode, you can also compete, so a whole class or group can join in. Using the capabilities of the mobile device, the app sends information or guides the user to the next point in the game based on their physical location. On a desktop computer or in a web browser, it presents the points of interest in a virtual tour.
An administration interface is available for editing the walks after logging in. As the very first step, attractions have to be recorded together with their descriptions and associated media. These recorded items will serve as each 'stop'  while creating guided tours and quiz-enriched playful walks. One stop can of course be used for several walks.
What to use it for?
In addition to creating outdoor tours, the app is also suitable for creating an indoor media (or audio-only) tour guide service based on QR codes.
Cloud service
Qulto Attract components are offered as a cloud service, installed on the servers of Qulto. The service includes server hosting (monitoring, backup), hosting and software usage.
Applications are web-based, running in a standard browser, with responsive design. The administration interfaces is also accessible from the browser.
In case of termination of the contract, the content created by the customer will be made available in a viewable format, without any additional charge. This will not include interaction elements offered by the application and the possibility of navigating between the pages.
Hardware requirements
The applications are run as cloud services, and our company takes care of the storage and serving of data, and of the operation of server-side programs. To answer technical questions and troubleshoot any technical issues that may arise, our company operates a support service. The visitor interfaces are browser-based and, thus can be accessed from a variety of workstations and mobile devices. The use of CityConquest is independent of any collection management system used by the institution.
Training
On-line consultation is included as part of the purchase for all applications. The administrator interfaces are simple, easy to use, and working with them does not require any preliminary training or IT skills other than the ones used for everyday work.
Information
Start and end date of development
2019-2020
Qulto level(s) of ecosystem
Institutional level(s)
Libraries, Museums, Cultural tourism
Applied Qulto product(s)